If you'd like to see what a difference granite bathroom or kitchen countertops can make in your Columbus home, contact us at The Granite Guy.
Are you wondering how you can make the bathroom or kitchen countertops in your home go from boring to something really amazing? If so, choose granite! Below are just 4 benefits that granite bathroom and kitchen countertops offer.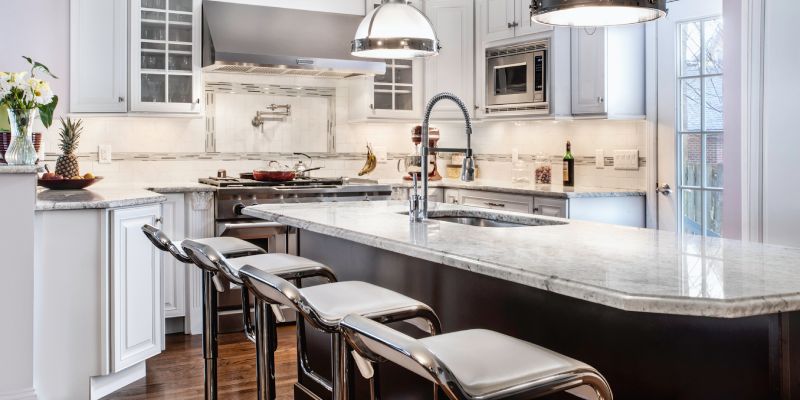 They are Beautiful: You're going to have great difficulty finding another material to make your home look more sophisticated and elegant. Because there are literally thousands of colors to choose from, plus the fact that no two granite slabs are identical, your bathroom or kitchen will be unique.
They are Affordable: Yes, you read this right! Most people incorrectly think that granite countertops are way outside of their budgets, but the reality is that today they are more affordable than ever. Over the years, the popularity of granite countertops has risen dramatically and, as such, prices have come down significantly. They are no longer exclusive to the rich and famous! Moreover, you can expect an excellent return on your investment – adding as much as 10 percent to the value of your home.
They are Durable: Granite is one of the most durable and strongest materials for bathroom and kitchen countertops. Your new countertop will be scratch-resistant and heat-resistant, and its shine and beauty will last for many years.
They are Easy to Clean and Hygienic: But isn't granite a naturally porous material? Well, yes it is, but when granite bathroom or kitchen countertops are properly installed and sealed, they are virtually impermeable to bacteria and other germs. To keep them clean, healthy and shiny, just wipe with soapy, warm water after every use.
If you'd like to see what a difference granite bathroom or kitchen countertops can make in your
Columbus, Ohio
home,
contact us
at The Granite Guy.
Common Questions About Our Kitchen Countertops
At The Granite Guy, we're your source for high-quality kitchen countertops. If you're ready to upgrade your home with new countertops, keep reading for some answers to common questions we receive.
What kind of countertop materials do you offer?
We offer several different natural stone countertop products. These include granite, quartzite, and marble. If you need help going over the differences between each, we can help!
How do I care for my new kitchen countertops?
If you put natural stone countertops in your kitchen, avoid using abrasive cleaners or sponges to clean them. Depending on the material, you may also want to have them sealed every few years to protect the natural stone.
How long does countertop installation take?
This depends on the project and the size of the kitchen. However, we can complete most kitchen countertop installation projects in under a day.
Will you need to measure my kitchen before installation?
Yes! Prior to taking out your old countertops, we will need to measure your existing counters as well as your cabinets. We are extremely thorough during the measuring process to ensure your new countertops fit perfectly in your existing space.
How do I start the process?
Start the process by contacting us directly! Let us know you want to put in new kitchen countertops, and we'll help you select a countertop type and slab. We can't wait to help you enhance your home and its value with new kitchen countertops!
---
At The Granite Guy, we offer kitchen countertops for customers in Columbus, Delaware, Dublin, Gahanna, Grove City, Hilliard, Lewis Center, New Albany, Plain City, Powell, Upper Arlington, Westerville, West Jefferson, and Worthington, Ohio.
Similar Services We Offer: