There's no question about it—the best countertops for your Plain City home are granite countertops!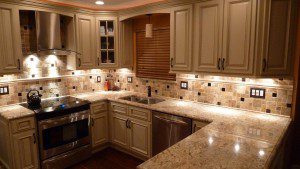 Granite countertops are fashioned by man and created by nature. They are a beautiful, durable and affordable (yes, affordable!) choice for bathrooms and kitchens in Plain City, Ohio. The word 'granite' comes from the Latin word 'granum' meaning 'grain'. The strength of granite is rivaled only by the strength of quartz and diamond, so no wonder the best countertops are granite!
Having first been popular among designers of more upscale homes, granite has now become the countertop material of preference for even the most budget-conscious homeowners because granite countertop prices have dropped significantly over recent years.
Granite comes in a multitude of colors, from shades of browns, greens, blues, reds and black. Home chefs love its cool polished surface because it's ideal for rolling out pastry dough. Even professional chefs agree that the best countertops are granite.
Granite is unique because no two slabs of it are exactly the same. Therefore, it is a great design element for adding texture and richness to kitchens and bathrooms. Granite countertops reflect the beauty and brilliance created by Mother Nature, while bringing character and personality to a room. This is why other natural stones and granite have been used in some of the most exquisite pieces of architecture throughout the world.

There's no question about it – granite remains the odds on favorite choice for countertops because it keeps its value better than many other materials. The investment you make should pay you back at least 3 times your initial outlay. If granite didn't make the best countertops, then it wouldn't be one of the most popular options on the market.
---
At The Granite Guy, we offer the best granite countertops for customers in Columbus, Delaware, Dublin, Gahanna, Grove City, Hilliard, Lewis Center, New Albany, Plain City, Powell, Upper Arlington, Westerville, West Jefferson, and Worthington, Ohio.