We offer a wide range of beautiful, durable granite options to help you elevate your kitchen or bathroom design.
At The Granite Guy, we have extensive experience in working with granite. If you are looking for a way to upgrade the counters in your kitchen or bathroom (or any other room, for that matter), we encourage you to reach out to us to learn more about our wide selection of beautiful, high-quality granite options.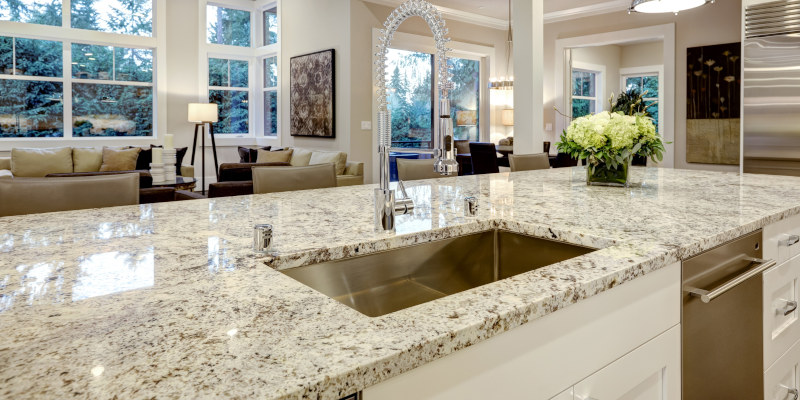 Granite comes in a wide variety of colors and patterns, and our team can help you find the ideal option to complement the rest of your interior design. In addition, we'll take care of all the fabrication, installation, and sealing services for you, so you can rest assured your new granite counters will last for years to come.
Granite is an ideal material for countertops for several reasons, the first of which is its incredible durability. This stone is hard enough to resist the vast majority of scuffs and scratches, so you won't have to worry about damaging it. In addition, our team uses a 15-year sealant on all our granite countertops, which closes the natural pores in the stone and prevents them from absorbing any pigments—in other words, our granite counters will not easily stain. Granite counters are also extremely easy to maintain, as all you will need to do is wipe them down with a mild cleaning solution and a clean cloth every day.
Our team is proud to serve the community in Columbus, Ohio, and we want to help you create the perfect granite countertops for your kitchen, bathroom, or any other space. If you are interested in learning more about what our experts can do for you, just give us a call.
---
At The Granite Guy, we offer granite countertops for customers in Columbus, Delaware, Dublin, Gahanna, Grove City, Hilliard, Lewis Center, New Albany, Plain City, Powell, Westerville, West Jefferson, and Worthington, Ohio.