Need help with your granite kitchen countertop project in Columbus, Ohio? Give us a call at The Granite Guy!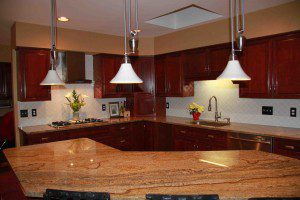 Installing granite kitchen countertops is one of the best investments you can make for your home. However, the process of selecting and installing them can be misleading and confusing. So here are a few 'showroom to installation' tips to help you maximize your investment.
Visit the Showroom: Begin the process by visiting a fabricator's showroom where you'll be able to see sample slabs of granite and learn about granite countertop prices. Of course, costs will differ depending on the stone you choose.
Choose a Sink: For granite kitchen countertops, a stainless steel undermount sink is the most common choice for aesthetics and practicality. Some home improvement experts recommend a 16-gauge unit because it's thicker and more resistant to dents. Before choosing one, think about your kitchen habits because undermount sinks come in many sizes and shapes.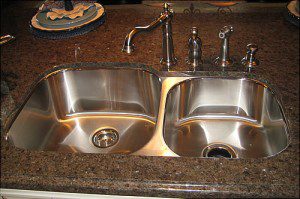 Decide on a Backsplash: Do you want a backsplash to match your granite kitchen countertops? Today, most kitchens have backsplashes that start at the countertops and continue to the upper cabinets.
Faucet Layout: The fabricator of your countertops will need to know the number of holes to be drilled in the granite, and therefore may wish to see a specification sheet for the faucets you have chosen.
Installation Day: Your fabricator will bring the slabs for the granite kitchen countertops to your home and install them. Usually, the job can be done in a few hours, but you will probably have to wait 24 hours before the faucet can be installed and the sink drains connected.

Need help with your granite kitchen countertop project in Columbus, Ohio? Give us a call at The Granite Guy!
Common Questions About Granite Kitchen Countertops
Putting new granite countertops in your home's kitchen is a worthwhile investment. If you're interested in starting this project in the near future, we've answered a few common questions we receive about granite kitchen countertops down below.
Can knives scratch granite?
Knives cannot scratch true granite. However, we do not recommend cutting directly on your granite countertops. To prevent any issues, always use a cutting board when using a knife to cut food on your counters.
How should I clean off my granite countertops?
Avoid using any abrasive soaps or cleaning solutions. When you need to wipe down your granite counters, use a soft cloth and a solution of warm water and mild soap.
What do new granite countertops cost?
The total cost of new granite countertops depends on many factors. Some of these include the size of your kitchen countertops, the slab of granite you choose, and what the installation process will involve.
Do granite countertops add value?
Yes! If you are looking for a countertop material for your kitchen that will add long-term value to your home, granite is the way to go. Granite countertops can last for decades, and they are a beautiful addition to any home.
Why should I turn to you for new granite countertops?
We offer a huge selection of granite countertops in multiple colors and designs. Not only do we offer high-quality granite options, but we also do excellent installation work. Contact us today for a quote!
---
At The Granite Guy, we offer granite kitchen countertops for customers in Columbus, Delaware, Dublin, Gahanna, Grove City, Hilliard, Lewis Center, New Albany, Plain City, Powell, Upper Arlington, Westerville, West Jefferson, and Worthington, Ohio.