Granite Countertop Cost: The Granite Guy Will Always Give You the Best Deal in Columbus!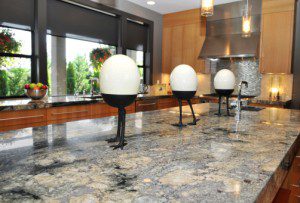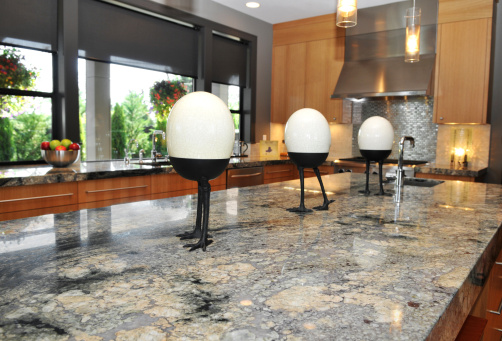 Are you worried about granite countertop cost? Well, you shouldn't! At The Granite Guy, we offer the best granite countertop prices in the Columbus, Ohio area. Visit our showroom in Worthington to look at our large selection of quality countertops. We've got over 80 colors of granite on display, as well as beautiful slabs of marble and quartz.
Let us help you find, build and install the kitchen counter or bathroom vanity you've been dreaming about. With us, you don't have to wonder if you're getting the best value for granite countertop cost because we always give the best deals! In addition to installation, we also offer replacement of granite, quartz and marble countertops.
An upgrade of your kitchen countertops is an easy, affordable way to dramatically increase the value of your home. You'll be amazed at how much the overall functionality and aesthetics of your kitchen or bathroom will improve with new quartz or granite countertops.
We'll happily work with you and your general contractor and, when we're done, you'll find yourself spending a lot more time cooking up a storm in your kitchen. And with your beautiful bathroom vanity, you'll no longer be dreading the time it takes to get ready in the morning.
We are accredited with the BBB (Better Business Bureau), so you can be sure we're an honest and trustworthy company that builds and installs quality countertops at affordable prices. We accept all major credit cards, including Visa, MasterCard, Discover and American Express, as well as cash and checks. So stop worrying about granite countertop cost and get on down to our showroom today!
FAQs About the Cost of Granite Countertops
If you've been thinking about putting granite countertops in your home, one of your main questions is likely how much you will spend on this upgrade. To provide some clarification, we have answered a few common questions we receive about the cost of granite counters down below.
What do granite countertops cost?
There are many different factors that affect the cost of granite countertops. For example, the slab you choose, the surface area of the countertops you need, and other factors can all impact how much you will spend.
How many granite color options do you offer?
We offer over 80 different granite color options for you to pick from. If you need help choosing, we can provide our professional advice and direction!
Are granite countertops worth the investment?
Yes! Granite countertops are a timeless option that will look beautiful in your home for many years to come.
What makes granite a beneficial countertop option?
There are many reasons to invest in granite countertops. Not only do granite countertops look beautiful, but they are also durable and easy to care for. Additionally, new granite countertops can increase your home's value.
How do I get a quote for granite countertops?
We can provide you with an estimate for new granite countertops. All you need to do is contact us, let us know which type of granite you are interested in, and provide us with some basic measurements for us to provide an estimate.
---
At The Granite Guy, we provide granite countertop cost estimates for customers in Columbus, Delaware, Dublin, Gahanna, Grove City, Hilliard, Lewis Center, New Albany, Plain City, Powell, Upper Arlington, Westerville, West Jefferson, and Worthington, Ohio.