Experience all the benefits granite countertops have to offer, in your Columbus home!
There are lots of naysayers out there who might try to tell you the cost of granite countertops in Columbus will be too high, granite countertops are difficult to maintain, or they can be breeding grounds for bacteria and stain or scratch easily.
But the truth is that the advantages of granite countertops far outweigh any disadvantages—and most of the myths floating around about granite countertops are not true.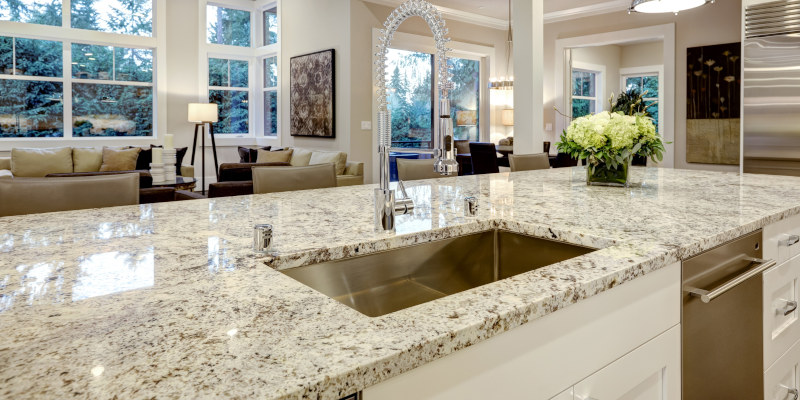 Myth
: Granite countertops are too expensive.
Truth: Granite can be expensive, but it definitely doesn't have to be. At The Granite Guy, we have over 80 different colors of granite to choose from, and we have the best countertop prices in the Columbus, Ohio area.
Myth: Granite countertops are hard to care for.
Truth: Like any other kitchen counter surface, granite just needs routine cleaning. Wiping up spills quickly with water and a microfiber cloth and drying the countertops after cleaning will leave them sparkling and beautiful for years.
Myth: All granite countertops need to be sealed once every year.
Truth: It is unnecessary to seal your granite countertops that often. In fact, many types of granite don't need to be sealed at all. For those that do need to be sealed, however, you can purchase a high-quality seal that will last for up to 15 years.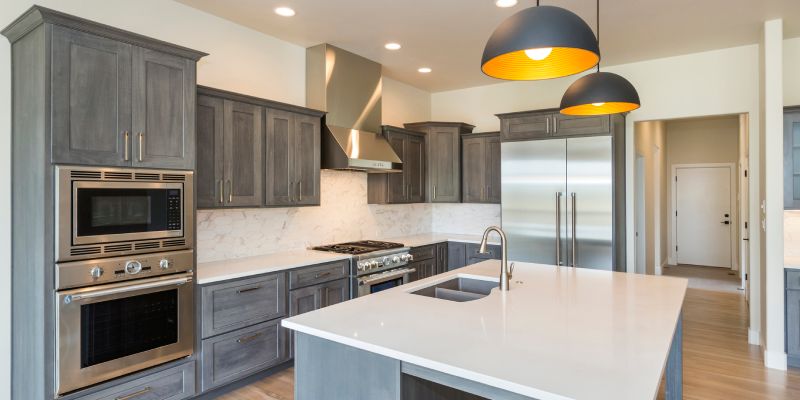 Myth: Granite countertops can easily be stained and scratched.
Truth: Granite is actually very stain and scratch resistant. If it does get scratched, it is easily repaired, and if it does get stained, the stain can usually be removed with mild soap, a poultice, or a commercial degreaser.
Myth: Granite countertops will make my family sick.
Truth: Granite doesn't hold bacteria or germs. As long as you clean it regularly, you have nothing to worry about.
If you'd like to experience all the benefits granite countertops have to offer in your Columbus home, contact us today at The Granite Guy in Worthington for a free granite countertop estimate.
We are always impressed with The Granite Guy.
"This was our third time using The Granite Guy for projects, and we had another wonderful experience. Hailey was knowledgeable and recommended a sink upgrade that we absolutely love and hadn't considered (but are so glad we went with)! Hailey went above and beyond to ensure that our island would be one piece rather than seamed, which was very important to us and the look of our project. We are always impressed with The Granite Guy and will continue to return for various projects."
★★★★★ Christina F.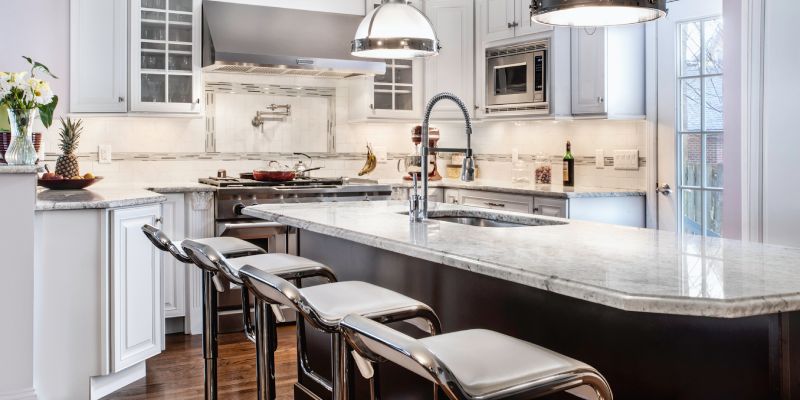 Kitchen Countertops
Are you wondering how you can make the bathroom or kitchen countertops in your home go from boring to something really amazing? We can help you find the ideal type for you.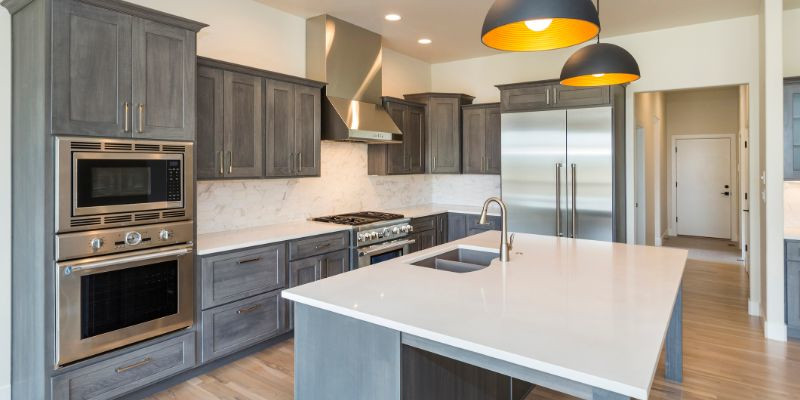 Granite Countertops
The advantages of granite countertops far outweigh any disadvantages—and most of the myths floating around about granite countertops are not true.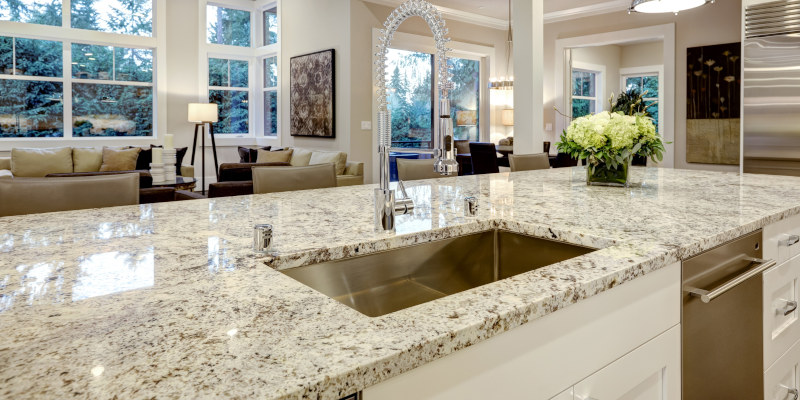 Quartzite Countertops
Nothing beats the beauty and rarity of quartzite countertops for your home.
FAQs About Granite Countertops
Granite is one of the most popular countertop materials currently on the market. If you are thinking about putting new granite countertops in your kitchen or bathroom, we have answered some common questions we receive about this countertop material below.
What are some benefits of granite countertops?
Granite countertops are durable, heat-resistant, and easy to clean. These countertops are also available in many colors and patterns and add value to any home.
How do you maintain granite countertops?
Maintaining your granite countertops isn't time-consuming or difficult. Simply clean them regularly with mild soap and water and avoid using abrasive sponges or cleaners.
How do I choose the right granite countertops for my kitchen?
When choosing granite countertops for your kitchen, consider the pattern and color of the granite, as well as your kitchen's overall design. You may also want to take into account the slab's overall resistance to staining.
How long do granite countertops last?
As long as you take proper care of them, your granite countertops could last for decades. However, to maintain their longevity, you may need to reseal or repair your granite countertops over time.
Why should I turn to you for new granite countertops?
We offer a wide selection of different granite countertop options that look great in nearly any bathroom or kitchen. If you have any questions about granite or would like to start exploring your options, contact us today.
---
At The Granite Guy, we offer granite countertops for customers in Columbus, Delaware, Dublin, Gahanna, Grove City, Hilliard, Lewis Center, New Albany, Plain City, Powell, Upper Arlington, Westerville, West Jefferson, and Worthington, Ohio.
Why choose The Granite Guy?
We have more than 80 different colors of granite & marble on display in our showroom, as well as beautiful slabs of quartz and marble. We'll help you find, build, and install the bathroom vanity or kitchen counter you've always dreamed of. With The Granite Guy, you don't need to worry if you're getting the best value for the cost of your granite countertop—with us, you'll always get a great deal!
Check out what some of our customers have said about our granite countertops and other offerings.
Mr. Craig
★★★★★
I purchased my quartzite countertops and had them installed by The Granite Guy. Everything about the process went exceptionally well, There were some issues, but the owner reached out to me directly to make everything right.
Keith kepler
★★★★★
Great experience! From Chad at store to installers- Christian, Nick, Keeb- great results! Highly recommend
Matt Giordano
★★★★★
I highly recommend The Granite Guy for our countertops on the kitchen remodel we did with The Cabinet Guys. After many visits to the warehouse, we finally settled on a couple of gorgeous granite slabs.I really appreciated how The Granite Guy simplified the pricing. It made understanding our costs much easier as we evaluated options. We picked out the slabs we wanted and were able to specify what area of a slab we wanted to be for the large island that is the centerpiece of our kitchen.Chad was very helpful with some guidance for additional bracing that I needed to incorporate into the island to support the slab, and the installers did a fantastic job. We were also able to utilize a piece of the same granite behind our range hood and are very happy with the look!I highly recommend The Granite Guy for quality materials, workmanship and straight forward, competitive pricing.
Robert Henry
★★★★★
We reached out to Granite Guy mid summer to get some info about replacing our old countertops with new Granite counters. Brad was a contact and was incredibly helpful and educational. Taking his time to show us all the beautiful options and also allowing us to the time to make the decision of what would work best for us. We found their prices to be very competitive and honestly lower than several other places we checked with. He was so helpful thru the process and would quickly respond to questions even via text message. The whole measuring, scheduling and installation process was smooth without any hitches or surprises. We love our new Granite Guy kitchen countertops AND sink! Highly Recommend.....
Erik Hiss
★★★★★
This is my 2nd time getting stone counters installed and The Granite Guys were great! They had a pretty good selection of stone to choose from, but we ended up finding our counters from another vendor which was seamless getting them to The Granite Guys to fabricate. Chrissy was an amazing help in getting the right counters for our kitchen and was super helpful with communication and even laying out the design. Noah and Kane were fantastic when they installed the kitchen counters and this time around Noah and Nick installed the pantry counters...they all three did an outstanding job, were very thorough, a wealth of knowledge and simply went above and beyond what I would have expected! Thank you so much!!
Lexi Higgins
★★★★★
Brad has been wonderful to work with on finding the perfect counter top and Joe was been so patient when it comes to measuring. Nick and Christian have been so awesome and easy to work with for instal! They've been out to my house multiple times to make sure the instal was perfect. Very hard workers and so kind! Thanks guys! (Kitchen splash not all the way complete in the photo but LOVE the way it's turned out so far).
Tom B
★★★★★
Chad was really great to work with. Took lots of time and explained everything. Just beginning this journey but I know it's going to be great. We found the granite we want and we are anxious to get started.
Kenny P
★★★★★
Great company and great people to work with. Everyone was so friendly and helpful. It was a pleasure the whole way thru. We really love our new countertop. I'm sure we will be repeat customers of The Granite Guy!
Warren Koch
★★★★★
These folks are the best. Hailey Johnson was wonderful to work with, very knowledgeable and walked us thru the whole process, helped us pick out our quartzite slab and showed us how it might be cut up to cover all of our countertops in the kitchen as well as our half bath. she explained the whole process and timing as well as the payments needed at each step thru completion. she also explained that we could choose from their remnants to do our other two bathrooms as well (which we did). the entire team then followed thru on everything step by step and did an amazing job. everyone was so helpful, professional and polite. our house looks amazing! I can't thank Hailey and the team enough - I smile every time I walk in the house.
stephanie matson
★★★★★
WOW! I cannot say enough wonderful things about The Granite Guy and their ability to go above and beyond for customers. We hit a few hiccups and the owner Gary came right out to help. We will use the Granite Guy exclusively from now on and recommend him to anyone who asks.
Elizabeth Tait
★★★★★
Fabulous experience! We have an 1870s home with a 1990s kitchen in need of an overhaul. Hailey was professional, thoughtful and extremely helpful guiding us through the process from selection and design to measuring and installation. GG even had the sink we'd seen and referred us to Clean Cut Installs (also 5⭐) for the plumbing work. Joe, Noah and the rest of the team worked to an extremely high level of precision. The measurements were perfect and installation left not one spec of dust. Finally, the entire project was under our planned budget AND the unused quartz balance was prorated back to us. A pleasant surprise! Thank you, all!
Brian Daniel
★★★★★
Would definitely recommend The Granite Guy. Hailey was extremely helpful and responsive to our questions throughout the whole process. The install team was prompt, friendly, and did a great job. We really appreciated that they were able to keep the large L-shaped island quartz as one piece. Amazing how a kitchen looks so much better after putting new countertops in.
Todd Brown
★★★★★
Great looking quartz counter on a budget! Installation was quick and professional, and I would highly recommend!. Thanks for all your help, Brad!
Andrew Herbert
★★★★★
Just got quartz countertops installed today by The Granite Guy. Fantastic experience. They were easy to work with, very knowledgeable, and the process was made extremely simple for us. Pricing was great too. Installers were right on time, very professional and completed the install quickly. I would highly recommend them! Ask for Chad- he gets the job done.
Shannan Thompson
★★★★★
We needed a replacement counter in our showroom, so I went to the usual Home Depot, Ikea, etc for pricing, but none beat Granite Guy. We found the perfect counter and I loved dealing with the people there. Hailey was very responsive to questions and the team that measured and installed were all very nice an efficient. I highly recommend!
Patty Fuller
★★★★★
I had the Granite Guy Columbus install granite countertop and they did a great job. From shopping the vast selection and sales was extremely informative and reassuring to the great quality and value to the installation. The installers were very good at their job. The seem was flawless and they mad extra care everything was level and they cleaned up afterwards. I would recommend The Granite Guy for countertops any day
Sara
★★★★★
After experiencing an unexpected event in my home, my goal was to renovate my kitchen and bathrooms quickly without compromising quality. Brad with The Granite Guy was with me every step of the way, giving me just the right amount of guidance and breathing room while I worked through my indecisions. He was very knowledgeable, patient, and professional from start to finish with the installation within 5 weeks. My counters are beautiful and have elevated my home beyond all expectations.I highly recommend working with The Cabinet Guys (Leah) and The Granite Guy (Brad) in tandem for any renovation needs as they made the entire process seamless for me by excellently coordinating their activities. They 100% salvaged my sanity.
Response from the ownerHi Sara, Thank you so much for the kind review! So glad we were able to take care of both your granite and cabinet needs. Enjoy your brand new bathrooms!The Granite Guy
Pam Bachman
★★★★★
The Granite Guy installed our new countertops recently and we are very happy! We worked with Hailey, who is very knowledgeable and a great communicator! Great choices, timely and accurate measuring, and installation guys who knew what they were doing. I would highly recommend The Granite Guy!
Cassie Kovell
★★★★★
An absolutely AMAZING experience! I had gone to several other granite vendors in the area and found I was not getting the level of help I needed with multiple drives in person to find inventory did not meet asks. I spoke to Hailey at the Granite Guy and within 15 minutes she was sending me direct images of options that met my asks. This saved me a ton of time and allowed me to see final options in person. I then loved the design process as the team worked with me to see exactly how the stone would look in my place with extreme level of detail! The turnaround time was 4x faster than other places and the install was immaculate! This was handsdown the best vendor experience in a full remodel - I cannot recommend this company enough! Thank you!
Pola Gupta
★★★★★
I highly recommend The Granite Guy for all your countertop installation needs. I recently had the pleasure of working with their team and was extremely pleased with the result. From the beginning, Hailey, the sales agent, did a fantastic job in coordinating all the activities. She was always prompt in responding to my calls and following up with my requests. Her professionalism and attention to detail were outstanding. Chrissy, the manager of The Granite Guy, was also a pleasure to work with. She was very polite and friendly and assured me of high-quality work. Chrissy's leadership skills are amazing and always made sure that the quality of the job done was nothing less than perfect. Anthony's crew did an outstanding job in installing the countertops. They were meticulous in their installation process and paid great attention to detail. The final product exceeded my expectations and looks stunning! Lanitha's service and knowledge of the whole process of countertop installation also impressed me. Overall, I highly recommend The Granite Guy for their exceptional service and top-quality work.Thank you, The Granite Guy, for a job well done!
Donna Powell
★★★★★
I shopped around for the best price and quality of product and installation. I can tell you The Granite Guy was excellent from beginning to end. I worked with Hailey and she was terrific. They have the full slabs on display with the prices listed on them that you can walk through and choose. I was looking for something very specific and she helped me find that. Everyone I dealt with was incredibly kind and professional. Including the gentleman that came out to measure and the 3 guys that came to do the installation. Everyone went above and beyond with their customer service. I would highly recommend this company to anyone looking for countertops.
Christina Fisher
★★★★★
This was our third time using The Granite Guy for projects, and we had another wonderful experience. Hailey was knowledgeable and recommended a sink upgrade that we absolutely love and hadn't considered (but are so glad we went with)! Hailey went above and beyond to ensure that our island would be one piece rather than seamed, which was very important to us and the look of our project. We are always impressed with The Granite Guy and will continue to return for various projects.
Response from the ownerHi Christina, Thank you for the 5 star review! It is amazing how most of our customers are repeat customers or neighbors! Can't wait to take care your countertop needs down the road!The Granite Guy
Rob Rollyson
★★★★★
We had a great experience working with Hailey at The Granite Guy. She was knowledgeable, patient with us through the decision process and very responsive.
Response from the ownerThank you! Hailey does an amazing job. So glad she is part of the team.
Granite countertops provide timeless beauty and ideal function.
Reasons to Choose Granite as Your Countertop Material
Similar Services We Offer: