So, if you're looking to renovate, we recommend installing high-end granite countertops.
We've all been there – after a while, you get bored with the appearance of your home and you're looking to make a change. Out of all the rooms in a house, the kitchen is the area where changes are made the most, the reason being that the kitchen is where your family gathers and where you hold social events. You want your kitchen to look stylish and functional. So, if you're looking to renovate, we recommend installing high-end granite countertops. This could completely change your kitchen's appearance. Sometimes making a minor change such as this is all you really need to give your kitchen a much-needed boost.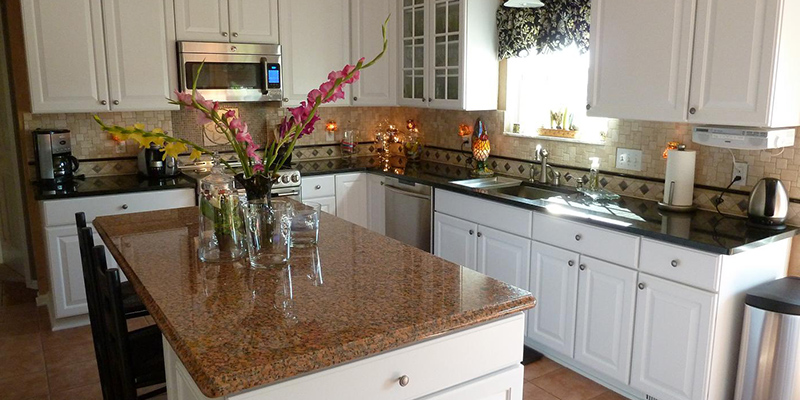 When you choose high-end granite countertops, you're also receiving several benefits:
A smooth, polished surface for overall appeal
An enduring material that can withstand hot and cold surfaces
A low-maintenance and easy-to-clean surface
In addition to these perks, no two slabs are the same. The piece you choose is unique and cannot be replicated, especially since granite is a natural stone. High-end granite countertops could be just the boost your kitchen needs in your Westerville, Ohio home. With its unique patterns and colors to accentuate the existing color scheme, your kitchen will look like new with a more modern feel behind it.
If you're thinking about making this change, then look no further. At The Granite Guy, our showcase room houses over 80 large granite slabs in a variety of designs and colors for you to choose from. Our experts will be there for you every step of the way. We'll ensure you choose the right piece, with a hassle-free installation. Call us today.
---
At The Granite Guy, we offer high-end granite countertops for customers in Columbus, Delaware, Dublin, Gahanna, Grove City, Hilliard, Lewis Center, New Albany, Plain City, Powell, Upper Arlington, Westerville, West Jefferson, and Worthington, Ohio.