High-end countertops can add long-lasting comfort and value to your home.
At The Granite Guy, we provide high-end countertops to our customers in New Albany, Ohio. We have a wide variety of options for you to choose from, including granite, quartzite, marble, and quartz. Each of these options will increase the functionality and sophistication of your kitchen. Many homeowners are installing high-end countertops because of the amazing benefits they provide. Here are a few reasons why you should consider high-end countertops.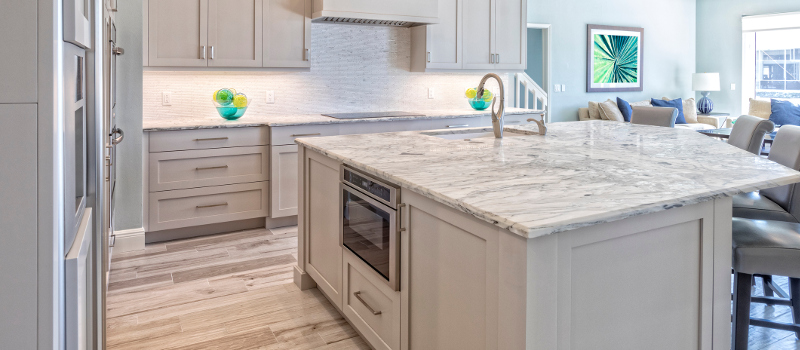 Durability. Each of these high-end countertops offers a high level of durability. Granite and quartzite are incredibly scratch-resistant. Along with quartz, they are also stain-resistant. Marble is more affected by scratches and staining, but with care, it is also incredibly long-lasting.
Beauty. All high-end countertops we offer have a unique pattern and color. No two slabs of natural stone will look alike. The sophistication of marble or the luxury of quartzite will set your kitchen apart from all of the others in your neighborhood. Granite is a popular addition to many kitchens because its composition provides interesting details and beautiful patterns.  Quartz is manufactured from natural stone, so it has a large number of styles and patterns available.
Home Value Increase. High-end countertops will increase the value of your home. Most homeowners see an increase in their value greater than the amount of money they invested into their countertops, not to mention that when potential buyers visit your home and see your high-end countertops, they will be more likely to make an offer on your home over a house without this upgrade.
When you are ready to have high-end countertops installed, trust our experts to provide you with the best customer service and 100% satisfaction. Give us a call today to learn more about the options available for high-end countertops and how they will upgrade your kitchen.
---
At The Granite Guy, we offer high-end countertops for customers in Columbus, Delaware, Dublin, Gahanna, Grove City, Hilliard, Lewis Center, New Albany, Plain City, Powell, Upper Arlington, Westerville, West Jefferson, and Worthington, Ohio.