High-end countertops can take your home from stylish to stunning.
When it comes to the kitchen and bathrooms, it seems like everyone these days who is working on a remodel is looking for high-end finishes and products. Many people enjoy cooking at home or do so out of necessity and therefore want a nice kitchen that will work for their needs. If you are looking to remodel your kitchen to make it your dream kitchen, want to update a dated and plain bathroom, want to sell your home soon and need to update your kitchen and bathrooms, or are working on a new build here in the Hilliard, Ohio area, the best place to go for high-end countertops is to our showroom at The Granite Guy.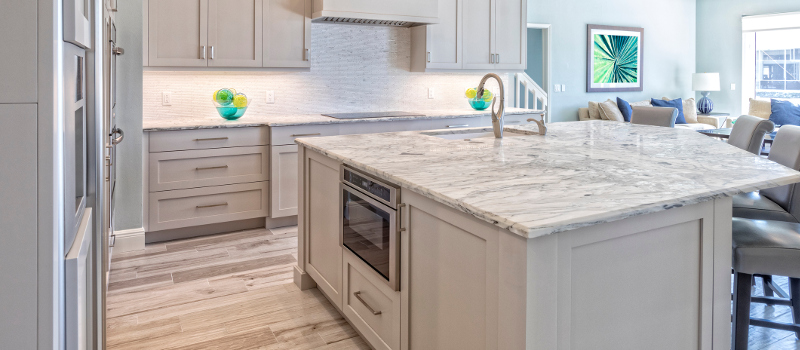 High-end countertops are a great source of design, style and beauty in any kitchen or bathroom. With durable and made-to-last materials such as quartz, granite and marble, your high-end countertops can be, quite literally, solid as a rock! At The Granite Guy, our high-end countertops give you a huge variety of choices in terms of styles and materials. We can also help you decide on small details that really give your countertops something extra special, such as angled cuts or beveled edges. With our team on your side, your high-end countertops will really have the ability to stand out as design features in your kitchen and bathroom.
We would love to have the chance to show you our selection of high-end countertops and materials like granite, quartz and marble. Please come and check out our showroom for design ideas, inspiration, and tips for making high-end countertops part of your home.
---
At The Granite Guy, we offer high-end countertops for customers in Columbus, Delaware, Dublin, Gahanna, Grove City, Hilliard, Lewis Center, New Albany, Plain City, Powell, Upper Arlington, Westerville, West Jefferson, and Worthington, Ohio.
Similar Services We Offer: