When it comes to countertop materials, granite kitchen countertops make a durable and beautiful choice.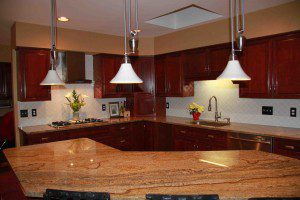 Do you spend a lot of time in the kitchen? Even if you are not a chef-level home cook, there's a good chance that you want a beautiful kitchen within which you can cook for your family and friends. One of the most important items on a potential buyer's wish list is often a beautiful kitchen with a workable layout and some high-end finishes. Even if you do not intend to sell your home anytime in the near future, granite kitchen countertops can be a great addition to your new kitchen or kitchen remodel.
Granite has been the go-product of kitchen countertops for years now, and for good reason! Granite kitchen countertops are stylish, come in a huge variety of colors, are easy to clean, can withstand the heat and humidity and mess that the average kitchen dishes out, and are even more affordable than ever before. With a simple sealing process every 15 years or so to keep your granite kitchen countertops looking great and easy to clean, there's not much maintenance you need to do for your granite kitchen countertops.

Here at The Granite Guy, we offer a huge variety of choices for your selection of granite kitchen countertops. If you have a hard time visualizing what your countertops will look like from a small sample, don't worry! We have full slabs of granite for you to choose from and get a firm visual on the colors and variations of the slab you choose.
Instead of tolerating your Hilliard, Ohio kitchen, turn it into something you love with granite kitchen countertops from us at The Granite Guy.
---
At The Granite Guy, we offer granite kitchen countertops for customers in Columbus, Delaware, Dublin, Gahanna, Grove City, Hilliard, Lewis Center, New Albany, Plain City, Powell, Upper Arlington, Westerville, West Jefferson, and Worthington, Ohio.