Granite countertops offer many advantages over other types of materials.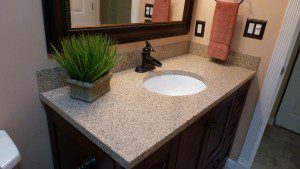 When you're remodeling a kitchen or bathroom in the Hilliard, Ohio area, one of the most enjoyable parts of the design process is choosing the countertops. With so many options, colors and materials out there, you can really let that creativity start to flow. Time and time again, even with all the options out there, people come back to granite countertops for their kitchens and bathrooms. That's because granite countertops are:
Affordable– While granite is more expensive than some other materials, it's still remarkably more affordable than it ever has been before. Especially in smaller areas like bathrooms, it makes sense to choose a quality material like granite countertops.
Durable– Granite withstands heat, humidity, chipping, moisture and almost any abuse that the average household can dish out without issues like cracks, scratches or fading. This quality alone makes granite countertops an ideal choice for high-use areas such as kitchens and bathrooms.
Unique– Because granite countertops are made from natural materials, each piece is unique. No two pieces will have the same variations in colors, inclusions or striations, ensuring that your granite countertops are unique to you. You can even choose your own slab to create your countertops from.
Easy to Clean– Granite countertops only need sealing about every 15 years. Between those time periods, a simple wipe down will keep your granite countertops clean.
Here at The Granite Guy, we obviously love this material so much we decided to use it in our company name! Granite countertops are great for your home renovation or build, and we would love to tell you more about them today! Come see us!
---
At The Granite Guy, we offer granite countertops for customers in Columbus, Delaware, Dublin, Gahanna, Grove City, Hilliard, Lewis Center, New Albany, Plain City, Powell, Upper Arlington, Westerville, West Jefferson, and Worthington, Ohio.
Similar Services We Offer: