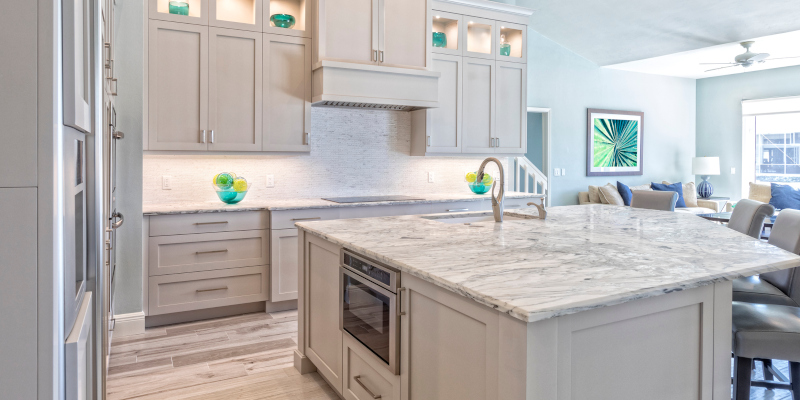 If you are getting started with a kitchen renovation, the best thing to do is choose your granite countertops prior to selecting the cabinetry. Part of the reason why you should do this is because the granite you'll choose is unique and unchangeable, whereas cabinetry can be changed with plenty of stains, paints, and materials to get the best possible match. If you were to select the cabinetry first, it can be a more difficult challenge to find the right granite slab to go with it. If you are keeping the cabinetry you currently have, the best way to proceed is to take a drawer or door with you as you look at granite.
When it comes to matching granite and cabinetry, you'll have a choice between a contrasting or complementary pairing. An example of contrasting would be a classic white and black kitchen or a light to medium wood cabinetry with black granite. An example of complementary would be a white granite paired with white cabinetry.
Another tip is to look at the various colors in the granite you've selected. Often, there is an earthy tone in there that will be close to a cabinetry wood color. For example, a medium to dark granite can have some light elements in it that match natural, finished woods, like maple, hickory, and oak.
Our final tip is to work with a granite supplier that has large slabs to look at instead of small samples and that is well-known for quality workmanship. That is what you'll find when you call us at The Granite Guy. We have more than 80 colors of granite slabs at any given time, so you can easily choose the one that you love most or goes well with the cabinetry you already have. Our dedicated staff takes the time to advise you and answer any questions you may have so that you'll be 100% satisfied with your new counters.