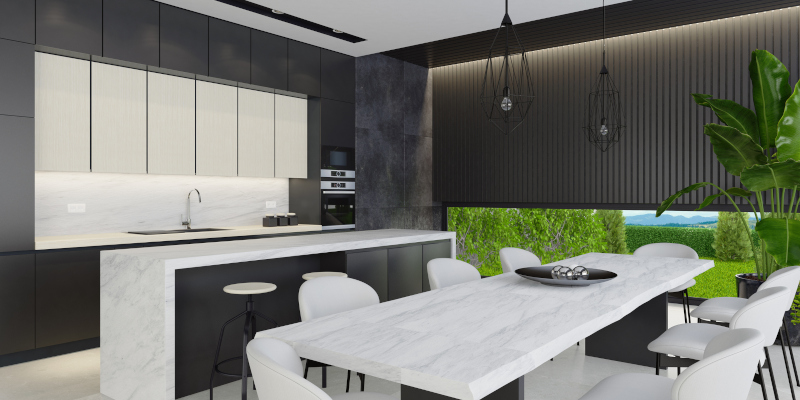 Yes, granite, quartz and marble countertops are elegant and beautiful, but kitchen countertop quality isn't merely a matter of opinion. Quality is something you have control over when choosing a company to do the installation. You'd be surprised at the number of fabricators and installers who don't know the basics of quality kitchen countertops.
So, how can you tell the difference between a really good countertop installation job and a so-so one? Well, here are a few things to look for when checking out some of the potential installer's previous work.
Are the countertops properly set? Marble and granite are especially heavy and don't require a lot of help to remain in place. A small bead of silicone or caulk on the exterior of the cabinet is all that's needed to keep a stone counter down. Gluing natural stone counters to cabinets with liquid nails or epoxy is overkill, and when removal is needed, it can be disastrous. Definitely not a sign of good workmanship!
Are the counters level? Good installers know the difference between a flat countertop and a level one. Quality kitchen countertops should be leveled and shimmed before further work is performed.
What about the sink mounting? Properly mounting sinks to stone countertops is a science. Blobs of glue around the bowl rim indicate shoddy workmanship. You can be sure that the bowl will need reattaching in the near future if it is poorly installed.
Remember, a good installer can make poor quality kitchen countertops look good, and a bad installer can make superior quality kitchen countertops look terrible. To get a really professional job, you need an experienced and skilled installer.
For quality kitchen countertops in Columbus OH, contact us at The Granite Guy. We have the best prices in town, and our selection has over 80 different colors for you to choose from. Request a free estimate today!