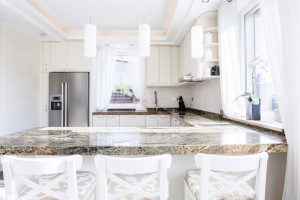 Home remodeling is a lot simpler when you have honest, effective contractors. You don't want to have to worry about an inexperienced or untrustworthy person doing the labor in your home. In order to make the process of getting your kitchen updated and your kitchen countertops installed as easy as possible, we recommend following these guidelines when selecting a worker:
Make sure your contractor has a permanent address. There are contractors who work on a freelance basis and have all of their equipment in their work vehicles. Sometimes these contractors can be talented and trustworthy, but this type of flexibility should also be a red flag. If they do a job that you aren't satisfied with, they could disappear and not be held liable. When a contractor has a permanent place of business, you can always be sure that you can contact them and rely on getting through in case of trouble.
Ask friends & family for advice. Talk to people who have had kitchen countertops installed by a contractor in the recent past. Did your trusted friends like the contractor? What snags in the remodeling process happened? It's always a good idea to get a referral from someone you trust and that can help you understand how the contractor works.
Look for reviews and do your research. Not all online reviews are trustworthy, so proceed with caution when you are doing your reading. However, they can be helpful to establish a basis for trust. You can also research the products that the contractor prefers to see if they choose quality and align with you on your product choice.