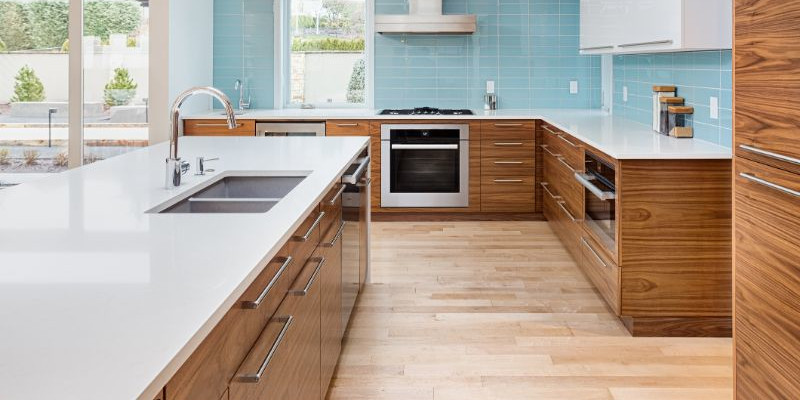 Ever since the 1920s when Formica was invented, American kitchen counter tops have been covered in laminates. However, over the past two decades, natural stone surfaces – such as marble, soapstone, granite and even concrete – have become the materials of preference. But then a new contender in the form of engineered quartz came along.
Boasting the finest qualities of stone and laminate, along with its own unique features, quartz started appearing in American homes in the late 1990s after gaining popularity in Europe. Today, sales figures of quartz kitchen counter tops have literally exploded.
While some quartz counter tops are made of actual quarried slabs, engineered quartz is created through a manufacturing process that comprises about 95% of natural quarried quartz and 5% polymer resins. The end result is a low-maintenance, super-hard, natural stone-looking product that's available in a dazzling array of colors. For many homeowners who chose quartz kitchen counter tops, it was the huge range of color options that actually sold them.
An independent contractor who remodels kitchens and bathrooms in Central Ohio says that, although homeowners love the color options that quartz offers, the best features are invisible. These counter tops are virtually indestructible – in fact, they are so strong that most manufacturers offer amazing warranties that you don't get with other stone surfaces.
This durability also means quartz resists corrosion and staining from household cleaning products, liquids and cooking oils, meaning there's no need for them to be periodically resealed. And, unlike some other surfaces, it is non-porous, so quartz kitchen counter tops are much more hygienic. They can be kept 99.9% germ-free!
For quartz kitchen counter tops in Columbus OH, contact us at The Granite Guy. We have the best prices in town, and our selection has over 80 different colors for you to choose from. Request a free estimate today!