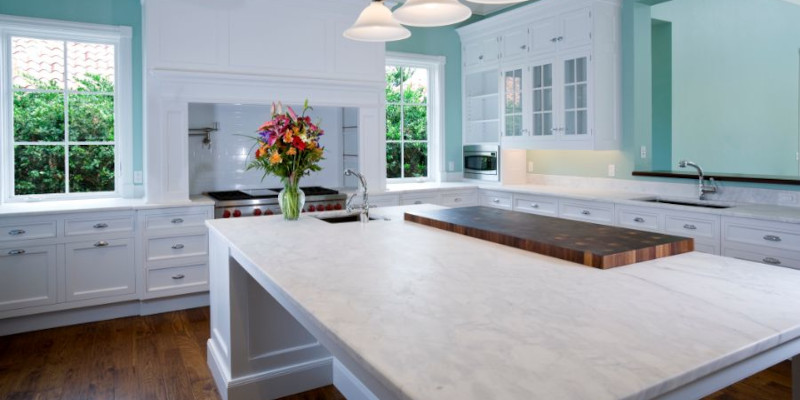 A timeless choice for quality countertops, marble is a versatile classic that will look good in any kitchen. But is this high-maintenance beauty right for you?
Marble is a metamorphic natural stone found in the mountainous regions of Europe, Asia, South America and North America – from Italy to Brazil and Colorado. One of its major attractions is that it comes in a wide variety of gorgeous colorations. Quality marble countertops are available in hues of pink, green, yellow, gray, black and white; some with subtle patterning and others with dark, prominent veins. The irregular lines of the veins can be a pleasing contrast to the straight lines inherent in most kitchens.
Despite the range of colors, white is often the first choice for quality marble countertops. Like a smart white shirt, white marble adapts well, blends with different styles and different materials, and it can be made more casual with a honed finish, or dressed up with a polished finish.
Because marble is one of the porous natural stones, it is prone to staining. Although it's not as hard as its cousin, granite, marble is tougher than soapstone. Also, it has a low abrasion rating, so it can scratch fairly easily. But on the plus side, quality marble countertops are strong and heat resistant, and they won't dent or chip.
At The Granite Guy, we offer new construction, installation, and replacement of granite, marble & quartz countertops in the Columbus, Ohio area. We work with homeowners and general contractors, and are accredited with the BBB. Contact us today for more information or to receive a quote.