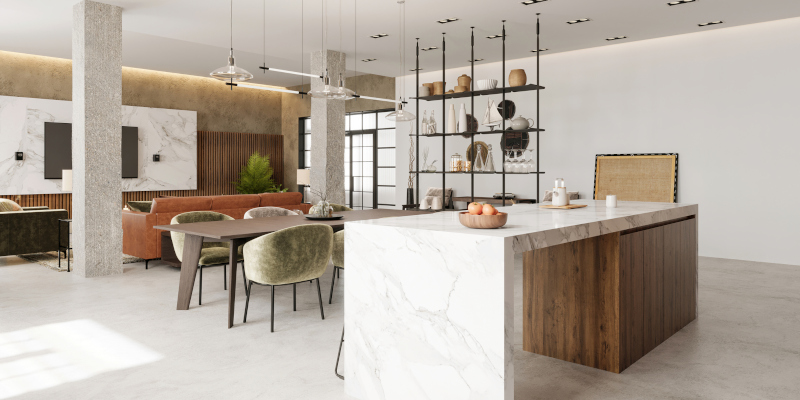 Gone are the days when you had few choices when it came for materials used to create kitchen counters. Even the old standby of laminate has undergone changes to make it more modern looking. Today there are even more modern choices for kitchen counters than you might realize.
Granite is a very popular choice for all sorts of different construction projects and is well suited to kitchen counters. The term granite has come to mean more than just the material that geologists call granite and comes from quarries all over the world. This allows for a vast number of colors, including white, black, grey, red, pink, brown, blue and green.
Quartz is a man-made engineered product formed with ground quartz and various resins, pigments and polymers. It is gaining in popularity because it is durable and easy to maintain. It has a low impact on the environment, since quartz is the second most plentiful material in the planet's crust.
Marble is a good choice if you are looking for sheer elegance. Even if not used for the entire kitchen because of its susceptibility to staining, it is a great choice for a specialty area. It has a cool touch, so it is a popular choice among if you like to bake pastries.
These are just three options available for kitchen counters – there are plenty more, including tile, concrete, glass, soapstone, stainless steel and wood. Since there are pros and cons with each type of kitchen counters, the best thing to do is discuss your needs and goals with one of our professionals. We can advise you regarding which will fit your lifestyle as well as your budget. Contact us today at The Granite Guy in Worthington, Ohio for more information.