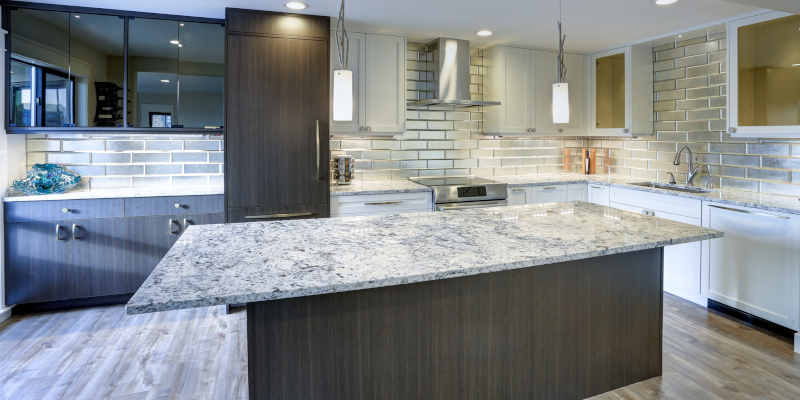 Of all the decisions to make when installing a new kitchen, the one that might seem the most intimidating is deciding on which material to use for the kitchen countertops. After all, it isn't just about how it will look but also how well it will hold up to everyday wear and tear. You don't just want your new kitchen to look fabulous when it is completed – you want it to look great for as long as possible. Here are a few material options for luxury kitchen countertops, along with their advantages and disadvantages.
Granite Kitchen Countertops: Granite is unmistakably luxurious in appearance, so it can really make your kitchen makeover special. The way it adds a look of nature to the kitchen is fascinating. It is a durable material that can stand up well to everyday kitchen activities, as long as it is properly sealed to begin with and you keep up with getting it resealed on a regular basis. The downside of granite kitchen countertops is that they are very heavy, so you will need sturdy cabinets to support them.
Quartz Kitchen Countertops: Quartz countertops are constructed of quartz chips and resin, giving a look of stone in an easy-care surface. Quartz is an engineered product, however, so don't expect it to have the same natural variegation that granite has. It does have many of the advantages that solid surface countertops have with the added beauty of a quartz appearance.
Marble Kitchen Countertops: Marble will always wow you in terms of appearance – it is nothing short of elegant. It is an especially good option if you enjoy baking, as its cool touch is perfect for rolling out pie or pastry dough. The downside of marble is that it can stain, even when sealed, as well as become scratched and chipped.
One other thing to keep in mind is that it might be better to choose the kitchen countertops before other aspects of your new kitchen because it will be easier to match cabinetry to the counters than the other way around. At The Granite Guy in Worthington, Ohio, we cps can help you make the best selection for your taste and lifestyle.