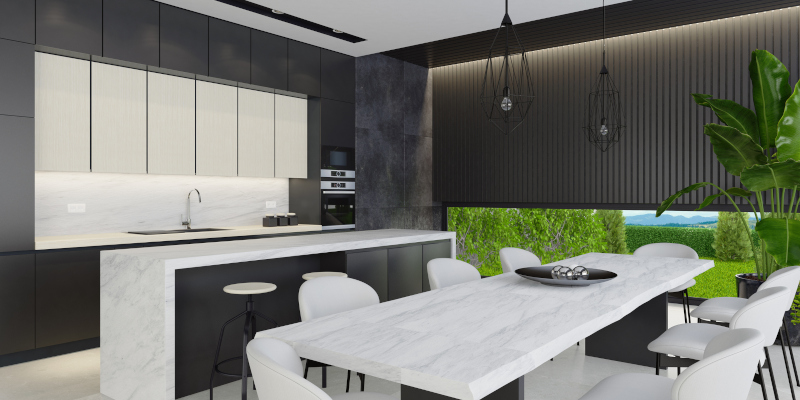 It is pretty difficult to be a rock star in your kitchen when stepping into it almost makes you cry. Ugly, dated or damaged kitchen countertops do nothing to bring out your inner chef. What's even worse is that they could be harboring bacteria even if you scrub them 'til your fingers go numb. There is no reason to live with a kitchen you hate when there are many options for new kitchen countertops that you will love!
Granite – There is a reason why granite is popular for kitchen countertops. It is unique and luxurious, not to mention durable. Nature provides for a wide spectrum of colors, and each slab of granite is unlike any other. Whether you are trying to match new cabinets you have picked out or want to keep the ones you have, granite kitchen countertops are ideal.
Quartz – The popularity of quartz is on the rise for a number of reasons. It is often a bit more affordable than granite for one thing, and because it is man-made, it can be installed with fewer seams than granite in most cases. The downside is that it isn't quite as durable, as it is more susceptible to heat and can discolor when in direct sunlight.
Marble – Nothing quite compares with the beauty of marble when you are looking for an elegant result. It is ideal when you want a modern style in a light and bright color. Although marble is heat-resistant, it is more prone to scratching, so care must be taken to keep it looking good.
If you would like to know more about granite, quartz or marble kitchen countertops, contact us at The Granite Guy. We can design, fabricate and install whichever type of kitchen countertops you desire. Stop by our Worthington, Ohio showroom to see our selection today, and we'll have you and your family having fun cooking in your new kitchen in no time!