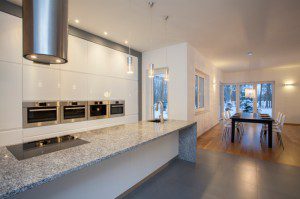 The two heavyweights in the kitchen are granite and quartz countertops. But when we talk about counters, we have to talk about practicality. Must it look good? Absolutely! But the top priorities should be functionality and safety.
No two natural stones are equal; each one is different. Because granite is a natural stone, it won't look the same throughout the whole slab. Nevertheless, it's always beautiful – it just may not be exactly what you expected. Because granite comes in single slabs, there will be a seam if your countertops have curves or bends. And, since it is natural stone, the seams aren't easy to hide.
Quartz, on the other hand, is engineered and colored. What you see is what you get. Your quartz countertops will look precisely like the sample; there'll be no surprises. And since it is all one color, any seams can be concealed. This benefit allows designers and installers to be more creative.
In most cases Granite needs resealed once a year. While it looks solid, it's actually quite porous, whereas quartz is not. So a quartz countertop doesn't need sealing, but a granite one does; however, this is no big deal because sealing typically takes less than an hour, and here at The Granite Guy we use a Dry Treat Stain-Proof 15 year seal. Even though quartz countertops aren't sealed, you don't have to worry, it is naturally very stain resistant– just use a rag with water and soap for cleaning and for tough spots, a water-vinegar solution is usually enough.
At The Granite Guy, we offer new construction, installation, and replacement of granite, marble & quartz countertops mainly in the Columbus, Ohio area. We work with homeowners and general contractors, and are accredited with the BBB. Contact us today for more information or to receive a quote.