Granite kitchen countertops can be a stunning addition to your home. With a unique pattern and beautiful colors, your countertops have the potential to become a showstopping element in your kitchen. However, because granite kitchen countertops draw the eye so easily, it can be a challenge to design your kitchen around them.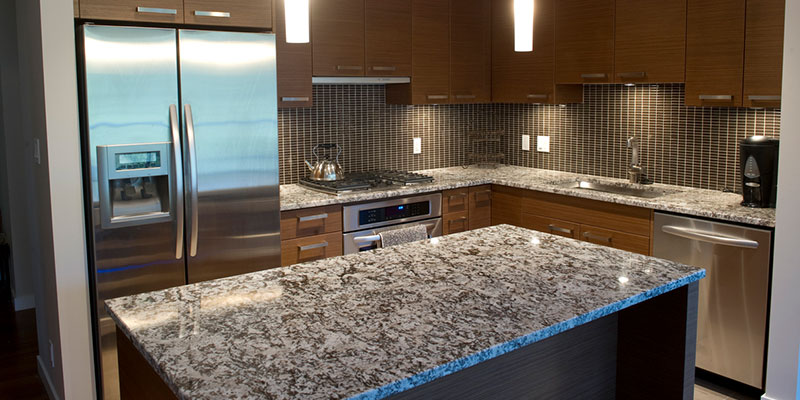 Our team would like to share a few design ideas that can complement your granite kitchen countertops:
Cabinet Colors – Granite kitchen countertops often have lots of brown, tan, and gray shades in them. To avoid overwhelming your space, keep your cabinets a color that blends naturally with the countertops. A warm white or a moody, dark color can bring out the best in your countertops. If you're not interested in painted cabinets, choose a stain color that picks up similar shades to your countertops.
Floors – A bold pattern on your countertops and your floors can make your kitchen look busy and overwhelming. When you have granite kitchen countertops, it's often best to keep your floors simple. A plain tile or wood floor is usually a safe choice.
Décor – Keeping your kitchen balanced also means avoiding cluttering your countertops with items and décor. However, a few carefully chosen decorative items can dress up your countertops and elevate your kitchen. If your granite has specks of a bright color, such as green or purple, try bringing in appliances, flowers, or décor in those colors to make the colorful specks in your countertops pop.
If you are interested in granite kitchen countertops, we would love to show you the options we provide. Contact us at The Granite Guy today.