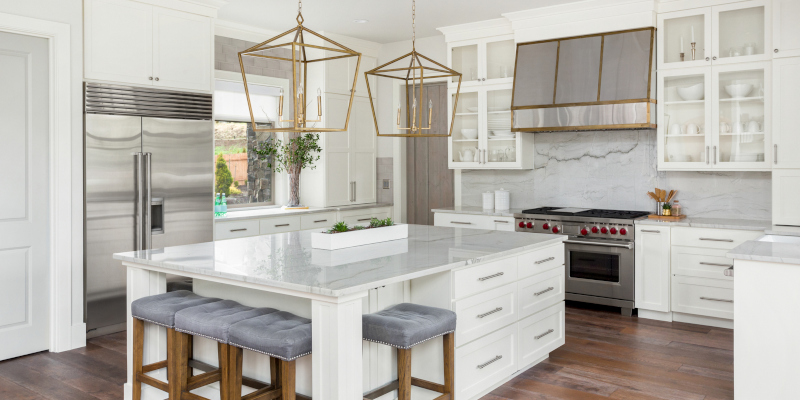 Where do granite countertops come from? Thirty years ago, granite countertops were almost unheard of, but now are quite common and are surprisingly affordable.
Granite countertops are made from mined rock. The rock is not always "granite," as defined by geologists, but is always a granitic rock, meaning that the rock has a similar origin (igneous) and composition (still made up of compressed and heated minerals, creating the look of compressed sparkle).  You still get the strength and durability of "granite," but get more colors and designs to choose from.
Because of upgrades in cutting technology, granite slabs can be converted into countertops easier and with less expense than ever before.
Quartz countertops, on the other hand, are not made from a solid, mined rock, but rather a man-made material formed from natural quartz crystals. By weight, the material is about 95% quartz, 5% resin, which is the heated glue which holds the quartz together. Quartz countertop designs are usually more toned-down and muted, which could be desirable, since the color and design are amalgamated from smaller pieces of stone. The result of the high heat creation process plus the resin is a very durable and less porous countertop. Lack of porosity means your quartz countertops will be stain-proof and don't need to be sealed.
Come check out our granite and quartz countertop designs and patterns at The Granite Guy, serving the Columbus/Worthington, Ohio area. We are locally owned and operated and would love to help you decide which counter is right for your bathroom or kitchen remodel.