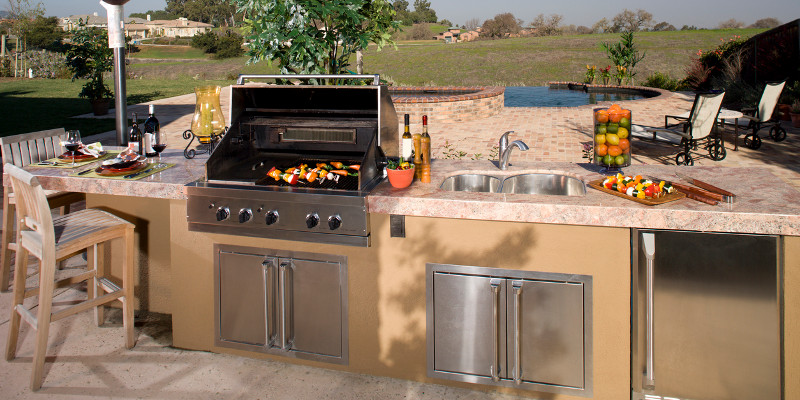 When you are designing an outdoor kitchen, you must keep in mind that the counters should not only withstand the same conditions as those inside your home, but also the conditions outdoors. This means you need to account for temperature changes, sunlight, and fluctuating weather conditions. Let's look at a few countertop options to determine the best countertops for an outdoor kitchen:
Quartz – Quartz countertops are incredibly durable, and the wide variety of styles and colors may have you thinking they would be on the list for the best countertops for your outdoor kitchen. The quartz material itself would handle the outdoors just fine, but the resins used in the construction would not be able to handle the prolonged exposure to sunlight without suffering damage.
Marble – It is hard to imagine that polished marble countertops wouldn't be a great idea for outdoor kitchens, but the reality is that they can be very easily damaged by outdoor elements. While marble of other types can be used for other components of your outdoor kitchen, marble doesn't make the best countertops.
Granite – Granite is at the top of the list for best countertops because it can withstand wear and tear as well as deal with hot, cold, and wet conditions. With proper care, granite countertops can keep their luxurious appearance and be a focal point of your outdoor kitchen.
If you would like to know more about the best countertops for an outdoor kitchen or even for your interior kitchen renovation, don't hesitate to contact us at The Granite Guy. Not only do we have a wonderful granite selection, but our 15-year sealer will make your granite countertops a breeze to care for. Come see our full slabs and you'll find the perfect one for your project.