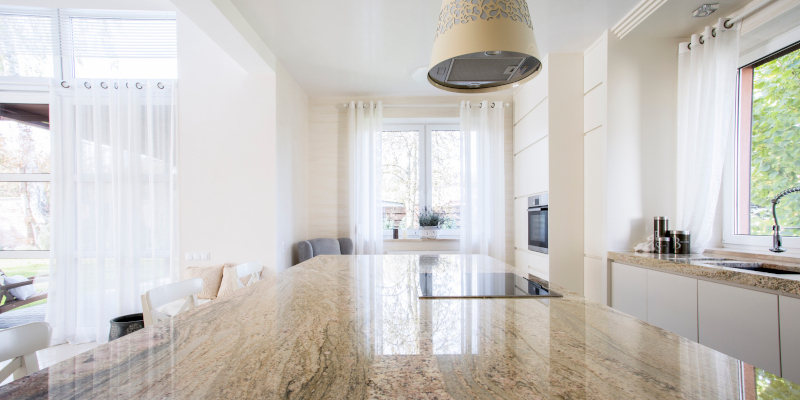 Kitchen counters can easily become one of the dirtiest surfaces in your home in just a matter of minutes. You may have young children who leave behind a trail of snacks and juice, be a busy chef who creates a mess while preparing a meal, or find that your personal hobbies have taken over the kitchen counters. Regardless of the source, it's important to find a solution that will keep your kitchen counters clean.
The cheapest and most easily available cleaning supply is, of course, water. Almost anywhere you have a counter, it's likely that you have a sink nearby. Water is great for cleaning up after spills and used on a rag or cloth to pick up loose dirt or dust. As the world's "natural solvent," it's capable of removing many dried spills or stains.
However, in some cases, water many not be enough. There are a variety of household cleaners that will keep your kitchen counters clean. These cleaners have additional ingredients that are helpful in tackling even the most difficult messes. Some of the most popular products are disinfectants or have bleach added. These are typically available in both sprays and convenient wipes. Finish your cleaning off with something that has an added scent to keep your kitchen counters looking and smelling clean.
Be sure to read the instruction labels for any cleaning supplies you would like to try. They often contain specific details on how to use the products. To remove stains, it's common to let the spray set on the stained area for several minutes before wiping it up. The label will also provide any important details about which types of surfaces or materials are safe for use.
Prepare yourself with the right cleaning supplies and materials, and you can be ready for any mess that comes your way.
For quality kitchen counters in Columbus OH, contact us at The Granite Guy. We have the best prices in town, and our selection has over 80 different colors for you to choose from. Request a free estimate today!