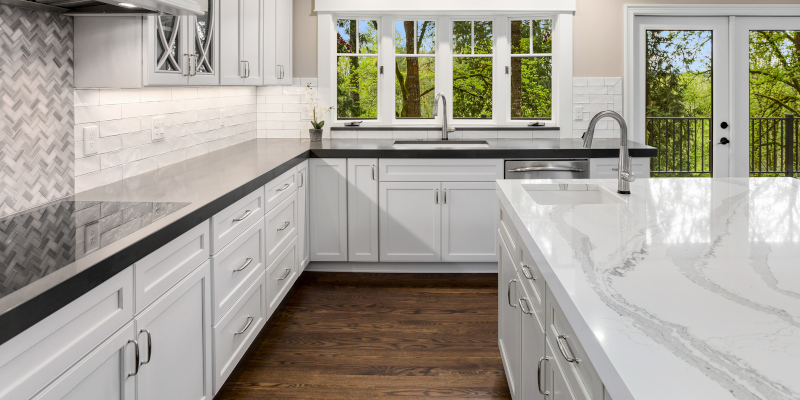 After buying beautiful quartz countertops from us at The Granite Guy, you don't want to damage those countertops by doing something you do many times a day in the kitchen—cleaning.
Cleaning quartz countertops doesn't need to take a lot of work. Clean your countertops with a soft, warm, soapy cloth or sponge, similar to something that you would wash dishes with. Clean spills up soon after they happen, and you will save yourself a lot of elbow grease. If something is really stuck on the surface, use a dough card or something flat and plastic that won't hurt the surface of the granite. If necessary, dry with a microfiber cloth, cloth diaper or an old cotton shirt rag. If you are still battling streaks, you can finish off with a spray of glass cleaner.
If you need something a little hardier than the initial soap and water, you can make your own quartz countertop cleaner using rubbing alcohol and dish detergent. Mix three parts dish detergent for one part rubbing alcohol. Mix with warm water.
Avoid cleaners with acid. This would include any cleaner with lemon, ammonia, or bleach. Also, try to minimize contact between your quartz countertops and foods containing acid such as lemons, soda, tomatoes, etc.
For other tips and tricks for cleaning your granite or quartz countertops, call our service professionals at The Granite Guy, serving the Columbus/Worthington, Ohio area.