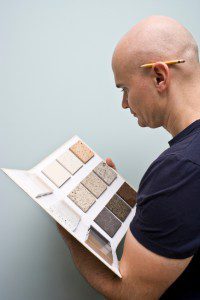 When planning a kitchen renovation, you may not know where to start. Do you choose the cabinets first or the kitchen countertops? Do you choose the flooring before you do anything else? What about the paint for your walls? If you are having a hard time getting started, a good idea is to come up with a color scheme for your kitchen. Once you resolve this, you'll be ready to choose cabinetry, flooring and kitchen countertops that match your style.
One of the things you need to consider when choosing a color scheme, and your kitchen countertops, is what option will get you the most timeless result. Although it can be fun to go with what's fashionable now, you may regret this decision later on. Kitchen countertops, particularly surfaces like granite and quartz, are a big investment. You won't want to have to update them again simply because you went with a fad as you were choosing their color.
However, just because you try to go with a timeless option doesn't meant that you can't pick colors that will stand out. For example, if you're looking at kitchen countertops, there are many options in earthy tones, like beige, brown, and gray, and many in more wild colors, like blue, burgundy, and red. As you pick a color, just make sure that it goes with the overall color scheme you have for your kitchen.
If you are in the Mid-Ohio area, stop by and see us at our showroom. At The Granite Guy, we have over 100 different colors of granite and a wide variety of different quartz options. We'll help you find the perfect kitchen countertops that reflect your personal style.