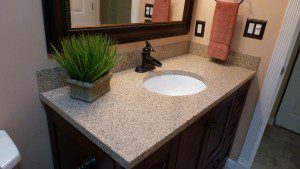 Are there any differences to consider between bathroom counters and kitchen counters? Although the options involving material and installation are essentially the same, you may want to consider the different factors in how each countertop will be used.
Unlike the kitchen, where the countertop is usually kept dry, the bathroom is a completely different environment. Instead of leftover food crumbs or marks from cutlery and silverware, the bathroom faces a more potentially dangerous threat. Water damage, which can come in a variety of ways, can destroy the laminate countertops that are frequently found in homes. Additionally, these laminate countertops can be discolored by the use of common cleaning products. How inconvenient is that?
Bathroom counters are also, in general, more difficult to keep clean. Toothpaste, mouthwash, and other hygiene products are common culprits that can dirty the bathroom countertop. The bathroom also faces frequent threats of plumbing leaks and flooding.
If you are building a new home or looking to remodel your bathroom, you should consider the possibility of granite or another stone material for the counters. First of all, granite countertops are resilient to these forms of water damage. Waterproof sealants can be re-applied when necessary to provide continued protection.
These granite countertops also create a wonderful aesthetic aspect to any bathroom. Stone countertops provide a clean, classy, and modern design to any bathroom.
Some people are concerned with the potential cost of these countertops, but there are affordable options out there. Considering that bathroom counters are typically much smaller than kitchen counters, a granite countertop is a both an affordable and worthwhile investment.
If you are looking for new counters in Columbus OH or would simply like more information, contact us at The Granite Guy. We have the best prices in town, and our selection has over 80 different colors for you to choose from. Request a free estimate today!