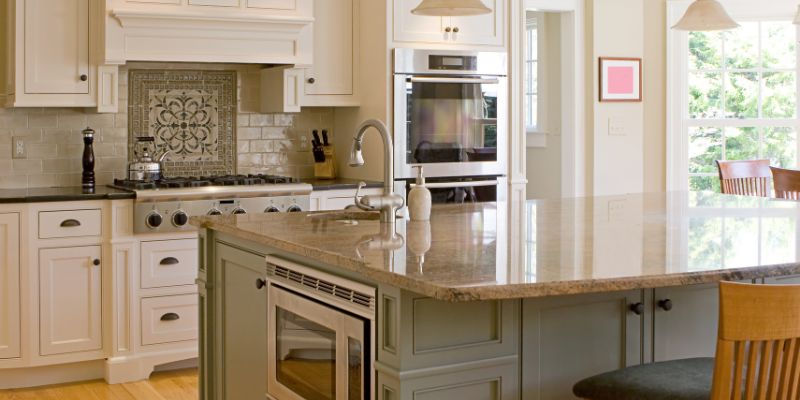 Besides beauty, granite counters have many other advantages:
Granite and other types of rock counters are one solid piece. It's not uncommon to see the edge banding on laminate countertops falling off. In one house we saw, the edge banding was coming off the top of the backsplash and on all the edges, leaving 12 inches flapping around to hit people and break off. Tile, though it can share a similar look to solid rock, has gaps for grout that trap crumbs.
Granite counters are durable.
Granite counters allow you to install an undermount sink. Undermount sinks cannot be installed over plywood because the plywood would become water damaged. Undermount sinks prevent water from sitting around the edges of the sink, damaging caulk and countertop; plus they give the kitchen a crisp, clean appearance.
Granite counters are impressive. When someone walks into your kitchen, they will always notice your granite countertops. This is especially great if you are may be selling your home in the future– it's a great way to attract potential buyers.
Granite counters, because of their durability and beauty, contribute well to the resale value of your home. If you see "granite countertops" listed on a home ad, you know the owners cared about the beauty and upkeep of their home.
For all these reasons and more, visit us at The Granite Guy, a locally owned and operated granite design and fabrication company. We serve the Worthington/Columbus, Ohio area and would love to meet you and discuss your kitchen or bathroom remodel.